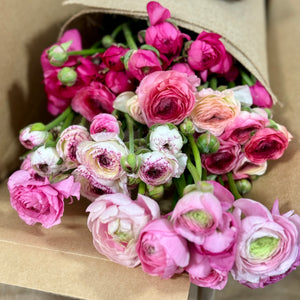 For longer lasting fresh flowers indulge in our exquisite FARM FRESH COTTAGE FLOWER BOX. 
Not only have we grown and picked these gorgeous flowers on our family run farms in Tasmania; but we've now gently bundled them into an exquisite farm fresh flower box for you to have home delivered. 
STEP 1: Choose your preferred colour MIX
This flower box is always gift wrapped. Once you add to cart there is an oprtion for you to write a note. 
STEP 2: We will carefully GIFT WRAP and write your note on your behalf in a hand crafted Tasmanian GREETING CARD. 
We also include an instructional care booklet on how to unbox and care for your farm flowers to maximise their vase life, which also explains where our flowers come from, so your recipient can understand our farm story, and connect directly with us.

For any other farm fresh flower delivery Brisbane queries please contact us at the flower shed.